St. John's Wort - the Lover & Fighter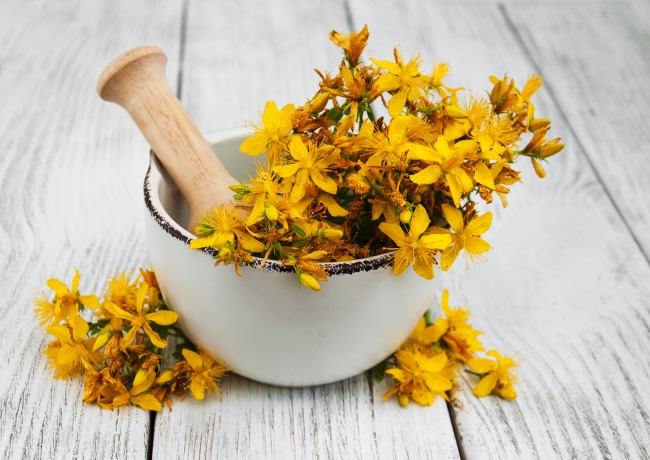 Usually by this time of year in the pacific northwest, this powerhouse plant would be seen less frequently. It is after all a true indicator of summer. June is typically the best month to harvest- but thanks to this mild season, we've still got plenty of opportunity even in late August. St John's Wort is famous for being a "magical" plant, used in potions during the middle ages meant to protect humans and animals alike from evil forces. In a way, this poetically reflects its modern uses. This highly medicinal plant arrives just in time for those who experience seasonal depression - and here's why. To create medicine from this plant, it requires a bit of time. Often arriving off the side of trails, or sprouting up rapidly in your backyard, this brightly yellow flowered plant emits a sense of joy, which is exactly what it's meant for. It's main active constituent is a red compound called hypercin, known for calming bouts of depression, helping those with anxiety or mental distractions become centered again, as well as offering aid to the central nervous system. It's also wonderful for back pain- which, who doesn't suffer from? Learning to make medicine from this readily available seasonal plant is relatively simple. ⁣⁣
⁣⁣
🌼 ST. JOHNS WORT OIL⁣⁣
Fill a mason jar with fresh plant material, then fill with olive oil almost to the top. Cover the jar with a paper towel and secure it with a rubber band (recommended to allow moisture from the freshly picked plant to escape jar). If you seal the jar with a metal lid, the trapped moisture can ruin your oil. Let the oil sit for 4-6 weeks in a cool, dark place and then filter the plant material out. The oil should keep for 1-2 years.⁣⁣
⁣⁣
🌼 ST. JOHNS WORT TINCTURE⁣⁣
Pack the jar with fresh plant material and add 80-100 proof grain alcohol almost to the top. Seal the jar tight with a metal or plastic lid and store in a cool, dark place for 6 weeks. Shake the jar once per day for the first couple of weeks. Filter out the plant material with cheesecloth, and store in a dark colored bottle. That's it! The tincture stays good for 5+ years.⁣⁣

Remember to always be conscious of how you harvest. Overzealousness can lead to real problems for our precious ecosystem. This is not recommended for those looking to make their business out of wild-harvested medicine making, but great for creating individual batches. If you're excited about the idea of pursuing your own business in plant medicine crafting, we suggest looking at growing your own supply of herbs and plants! This could be a great opportunity to collaborate with others, and offer powerful and necessary tending of the land too.
Happy medicine making, friends.

DISCLAIMER: not recommended for combining with pharmaceutical drugs or for those taking birth control. Please consult your doctor prior to use.
SERA LINDSEY IS A WRITER, PHOTOGRAPHER, AND EARTH DEVOTEE. HER LIFE IS CENTERED AROUND THE COMMUNION AND DEFENSE OF OUR PRECIOUS RESOURCES.

BORN IN MOROCCO, HER FORMATIVE YEARS WERE SPENT IN ENDLESS MOTION ACROSS THE US. ROOTS FINALLY TOOK HOLD IN THE PACIFIC NORTHWEST WHICH IS NOW WHERE SHE CALLS HOME.